Review of 'CB Passive Income Licence Program' V4
The CP Passive Income product is created by Internet Marketer Patric Chan. This affiliate marketing system has been on the ClickBank market for a number of years and its latest release for 2017 has been launched as a complete licenced program with its own products that a member of the program promotes and is paid a commission. The 'CB Passive Income Licence Program'  fee is paid on a recurring monthly basis of $47 per month. Below is a complete review of what this monthly subscription entails and if its going to be worth the investment as an online business.
What is the CB Passive Income 4.0?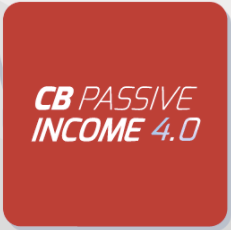 Essentially the CB Passive Income Licence Program 4.0 (2017) is a fully automated sales funnel.  The lead capture page (squeeze page) and lead magnet (eBook) is all set up for you. With version 4 (2017) you get the capture page optimised for mobile devices. Follow up emails have been set up ready to go so once you have leads under your list in the system. CB Passive Income system does the work for you – which is basically selling the program's products (which is done by sending subscribers to offers with your affiliate links which are cloned sales pages of the system's products)  and making you commissions for every sale. All you need to worry about is driving traffic to the lead capture pages which the program tells you how to do (via free and paid advertising sources).
The following review is a brief summary on exactly you get for your monthly subscription – which includes how the system is built.
What Do You Get In The CB Passive Income?
The 'CB Passive Income 4.0'  system consists of 2 parts.
So the first part is the complete sales funnel set up for you with lead capture page and all your affiliate ID tracking codes within the landing pages and ebook so that you get paid commissions on sales generated by your personalised cloned sales funnel system. So everything is automated in this part, auto-responder is already is set up for you.
The 2nd part is the training. This part focuses on getting traffic to your lead capture pages from the major sources that work to get traffic. Training is video based along with downloadable guides for social media and paid advertising. Included in the training is free support and updates to content.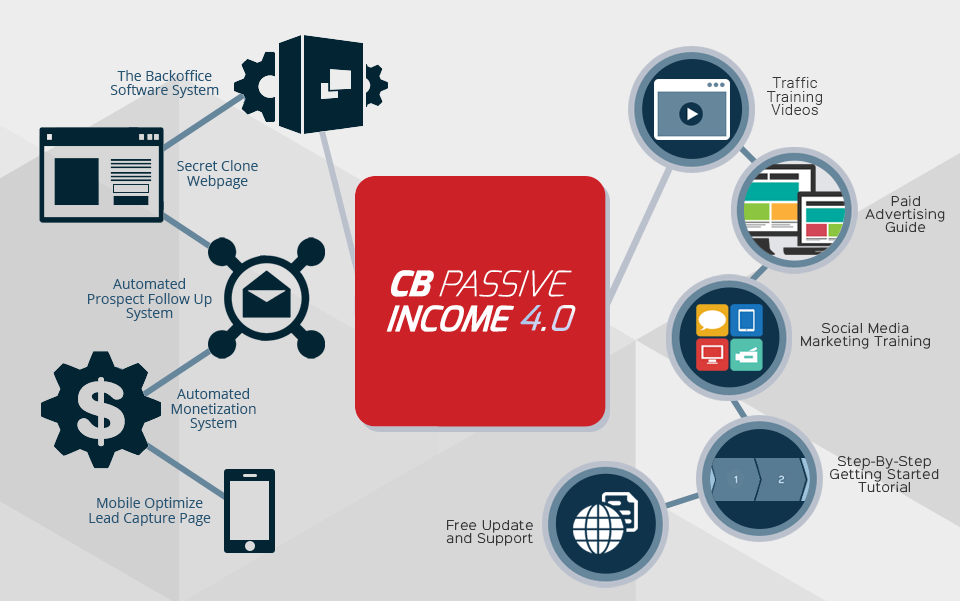 1. The system:
As mentioned previously, you get an automated lead capture with sales funnel set up ready for you to drive traffic to it:
Lead Capture (Squeeze) Page (Mobile Optimized)
Lead magnet (which is downloaded after sign-up) It's an eBook titled 'Operation Quick Money'.
Automated follow-up autoresponder email monetized series
'Secret' Cloned webpages – personalised with your affiliate link and controlled by a 'back-office' software system. Email subscribers are taken to these product sales pages in the follow-up series.
In a nutshell, here is how the system works:
Step 1 – Once you've logged in to the system, you are presented with landing page or dashboard. This is where you fill in your details (name, email and affiliate ID) and submit them to the system. The system sets up the 'cash machine' (or the lead capture squeeze page) which has your own personalised details with your ClickBank affiliate ID
Step 2 – Send traffic to this squeeze page using the traffic methods explained in the course. The system adds each visitor to a list after they opt-in for the free download eBook.
Step 3 – This is  the step where the system goes to work for you to make commissions and why its called passive income. What it does is send emails (to those signed up to the list from the lead capture page) via the system's auto-responder which promotes his product/s with YOUR affiliate ID in the links in the emails. Every time someone buys something on those links then you make a commission.
2. Training & Support
Training has step-by-step tutorials for getting started up in CB Passive Income system. You have full video training series on getting traffic.
The training is divided into these parts:
Step-by-step getting started tutorial
Social Media marketing tutorial
Paid advertising guide
Support is free along with updates
Does CB Passive Income 4.0 come with bonuses?
Yes. You get 3 free special bonus packages with this product, which are instantly downloadable after purchase:
Bonus #1: Digital cover creator software – simple 'point & click' software that allows you create and download eCovers.
Bonus #2: Traffic from Google (home course) – In depth video training that tells you how to pick up traffic with on page SEO
Bonus #3: The Email Assassin (home course) – advanced email marketing tactics, strategies and techniques
New Launch (version 4) Bonuses:
New Launch Bonus #1: Accelerator Training – This is a 2 hour webinar streaming training that shows you how to get started, building your email list and how to get all set up for automated Clickbank commissions.
New Launch Bonus #2: Insider Training and Internet Marketing Tools – What you get here is a premium membership to the latest tools or software to help build your online business – this includes latest products in getting traffic to build your email lists. You get a new product to help your online business as part of this membership every 30 days until you cancel the subscription.
Any Upsells?
Yes. There is one major up-sell to this product:
Professional Level – You can get pro membership which allows you to build your own list rather than having those signing up under the squeeze page you promote go under Patric Chan. You also get advanced on-going training and updates in the latest ways to get more traffic to your lead capture page. You can upgrade to pro anytime after purchase.
Pros and Cons
Before you dive in and purchase the CB Passive Income System, consider these positives and negatives:
The Pros:
Everything is set up ready to go – you don't have to spend any time messing around with squeeze pages, content, auto-responders, opt-in form or creating products. You are basically 'piggy-backing' off the hard work of Patric Chan's product creation who does all the selling for you. The only thing you need to worry is driving traffic to your lead capture pages.
The training provided for getting started with this system and getting traffic to your squeeze pages is very comprehensive and very easy follow.
You don't have to use this method for just getting traffic for leads to CB Passive Income, you can use it for getting people to buy your products or sign up to your own lists. It's a valuable training resource while you collect commissions.
Any Cons?
The biggest concern (in particular newbies) will be the recurring price tag to access this product, which is at $47.00 USD per month. However you need to consider that you don't have to worry about other monthly costs that are usually associated with keeping your squeeze pages, auto-responders and other sales pages up and running. Typical results for this product means you can get back the cost of the monthly cost multiple times over. Add to that you get updated training material every month then you can see the value of this recurring fee in order to use the system.
There is one negative to CB Passive Income 4.0 – which is the potential for saturation. Many marketers will be using this same system as its very easy to get up and running – you will be up against high volume of competition (the gravity rating on Clickbank indicates this too). The bright side of this is that a high competition means the product is working and is worth promoting.  The other good thing too is that the 'Make Money Online' niche is massive. Thousands of 'newbies' in online marketing flood the internet every day that will jump at a product exactly like this one. So there is every chance  your lead capture page is the one they'll be landing on if you promote it frequently enough via the right channels.
Does CB Passive Income 4.0 actually make you money?
The short answer is yes. The long answer is that you need to be patient and to make this happen. You can initially expect to get your monthly fee within the first week and I actually tripled that figure (the joining fee) within 7 days and I hadn't even ramped up my promotion of the product.
The CB Passive Income 4.0 2017 system will definitely give you another great online income stream. You can expect good commissions of $1,500 and up to $3,000 per month depending how much time and effort you put into promoting the lead capture page using the traffic methods explained in the training (most of them are free traffic methods). In excess of 3,000 per month is possible IF you are willing to spend the extra in advertising sources of Partic Chan's recommendations.
The CB Passive Income System also comes with a 30-Day money back 'no questions asked' guarantee. So there is no risk to you if you don't see results.