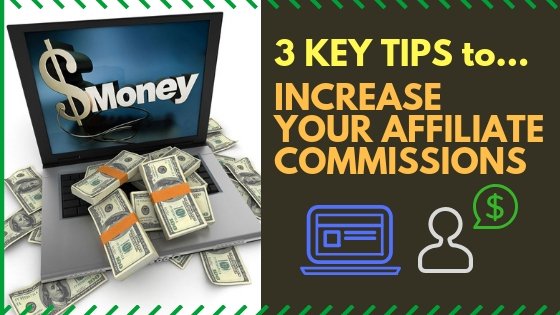 The great thing about doing  affiliate marketing, is that you don't have to worry about the need to support customers, produce or keep developing products, maintain customers or deal with refunds. In fact you probably don't even a website (although it's little harder to do this – it still can be done).
It's widely accepted that affiliate marketing is as one of the fastest ways to start up your own work-at-home (or even work anywhere else) online business and make money online selling other people's or company products.
If you happen to be already registered in a affiliate program or network, then what exactly are you looking to gain from it? There is a great chance that your answer will be that  you're very interested to double or even triple your commission earnings,  but obviously the big question is: how do you go about getting results like this?
3 Tips To Boost Commissions In Affiliate Marketing
1.  Know everything about the program and product offers
So ultimately, the end goal is to focus on promoting an affiliate partnership,  joint venture or program that gives the best possible return on investment  (ROI) – all done within the shortest amount of time possible. So when choosing the program, you need to closely consider these factors:
Be sure to choose a program with a good  commission structure
The program should have products that matches the needs of the target audience
The affiliate program will pay out it's marketers smoothly and quickly
If your ROI is not increasing, it's time to stop, re-access and move on.
Keep in mind too, that you have the right to be really picky as you'll find there are thousands  of affiliate programs to pick from. The ideal selection is going to be the best one that doesn't end up being just a waste of money spent on advertising.
2.  Content Is KING
Always remember this. The best way to stay ahead of your competition, is to publish quality UNIQUE digital content regularly and monetize with the affiliate offers you have  – so eBooks, articles  or reports that you can use as free giveaways are always going to be great. Be sure to notify your followers across social media, email marketing (see further below about this) run your own ads (Facebook, YouTube google ads and Instagram are the way to go), Also do your own videos – so everyone is aware you have something of value to offer – this will encourage your content to go viral via online social sharing too.
This is important because you'll be in direct competition with so many others that are marketing or referring the identical product (or one thats similar) as you. If you develop a short piece of content such as a review on the program or product, you then instantly can set yourself apart from the other dozen of affiliates that don't have quality or unique content.
It's vital you supply your readers with a review, report or digital book which allows them to take away something of great value. You should include your own recommendations for those products related to what you've written about. It's actually a great way to establish trust with your readers or site visitors – all ust by providing a free ebook, review or report.
3. Build Your Own List 
Yes it's true – the money is in the list. Using your own free giveaway content as incentive to join your email subscribers list is great way to build your list very quickly so you can utilise the powerful online money making method of email marketing. This will assist you to engage better with your followers in a more of 1-on-1 type of communication.
Essentially, how it works by collecting and saving your visitor's email addresses and then sending them a link to download a free copy of your e-book or report. Of course, they'll need to permit you to send them emails. Be sure to have an opt-in section on your page for them to submit their details usually first name and email address.
You should note that it can take several emails before a person converts to a buyer. Don't assume your wasting time sending these emails out because you just don't know at what point an email in that sequence will stick with your reader to make the decision to buy or sign-up to the offer you're promoting.
You can also use the email to follow-up with your subscribers to learn more about what exactly it might be that they're looking for from you or your offers.
So learn everything you can about all the different affiliate programs / products out there as well as what your audience is looking for. You then push these to your list via email marketing campaigns, which ultimately means you can increase the money you find coming in your commission payout checks!
Here are some of the all time BEST affiliate marketing networks and programs where you have hundreds of products to promote under their partner / JV programs:
Just Google these they'll come up as first items:
ClickBank (all main niches in digital information products)
Warrior Plus (Internet Marketing)
Amazon Affiliate Partners (Physical products)
Click Funnels (Recurring monthly commissions – which are the best)
Market Health (supplements, skin care, diet)
Here are 2 affiliate programs I've been promoting myself which has multi-level commission payouts for every referral: