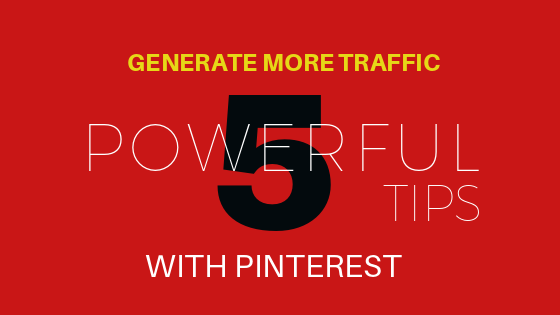 Pinterest has 200 million monthly visitors, and while it might not be one of the original social media giants like Facebook or Twitter, it's still a very important platform you should be using in order to get even more traffic from social media. It's great resource and tool because it drills down further into your targeted demographics.
If you don't already have an established plan for how to use Pinterest effectively in your business long-term marketing strategy, you're missing out on big opportunities to reach potential new leads or buyers of your products or services. Here are five very effective and powerful tips while using Pinterest to get more site traffic and get your business to grow (and your profits!).
1. Add 'pin' save buttons to your site or blog
If you want your target audience to take action, you have to make it easy for them. Placing a save 'pin' button to your website will allow your audience to Pin your content with just one click, even if they don't have the Pinterest browser button. Taking this one simple step will quintuple the number of content users save from your site.
2. Be consistent – Pin regularly
It's strongly advised that you dedicated some time 'Pin' something to the Pinterest platform daily, on during peak times, (which is in the evenings and any time on weekends), for all business – big or small. Pinterest it's vitally important to have consistency. Make sure you you also create your pins ahead of any holidays or time off. You commence posting at least 45 days in ahead.
3. Use great images or visuals
Since Pinterest is a highly visual platform, it will be worth your effort to create high-quality imagery. The photos that you Pin should be clear, well-composed, well-lit, and in focus. If you don't have the time or the tools to create your own photos, you can use stock photography websites for your images.
4. Make use of keywords
While Pinterest is a visual medium, images alone aren't enough to create engagement. Utilize the description fields to tell users exactly what they will get if they click the link. More importantly, make sure you include relevant keywords to help your Pins show up in searches.
5. The power of metadata – Use Rich Pins
Rich Pins are actually a very newly added feature to Pinterest. So what they use is the metadata pulled off your website or blog which provides users with extra information on what they will see at your site if they go ahead and click on a selected Pin of yours. The type of Pins that are available are recipes, products, service, reviews, how-to articles, educational articles and are should be related or associated to content that you'll be Pinning to the site.
Make Pinterest work for you
Pinterest is rapidly turning into a online platform or hub for any business to pick up extra targeted leads. If you follow the above five strategies regularly, it's going will help you use Pinterest to its full potential to work for you and grow your business.