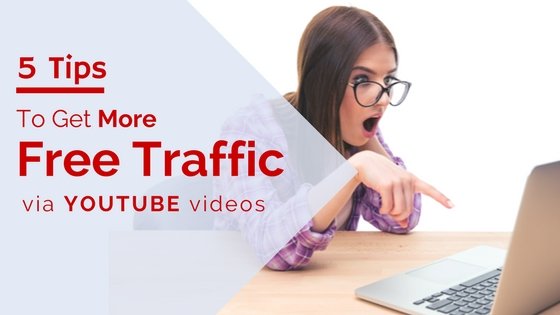 When I first got into video marketing on YouTube, I always had that nagging thought about getting free traffic on YouTube – the question I would ask is – is it as easy as everyone makes out to be? Yes. There is no question, if you use it properly, Youtube will deliver you more free, laser-targeted traffic than you ever hoped to get.
The key is to make your videos position well with proper set up of the keywords and phrases linked to the video so its really searchable and comes up in lots of searches. This is done based on specific keywords and phrases, and ultimately search volume. So for example, just say you've got a blog specifically about collecting science fiction action figures. So what you might do is upload and post a YouTube video all about your recent visit to a major 'Sci-Fi' event and because you didn't need to put time into preparing any special kind of script or even do any production work, any creation and editing of the video becomes very easy to do.
Now, let's just say you did some quick editing of the great video footage you did at the event, and then post a video to your channel on youtube. What you do is put specific keywords in the description like 'comic book collecting', 'comic book fans' and then include a link along with a detailed text description (like an article on the event written by you). If you spend time doing this then you'll find that your video will start showing up in youtube search results for those terms or related to that topic.
Videos you upload and optimise like the above is also going to rank very quickly on Google's search results, this is largely  due to the fact that Youtube is actually owned by Google, so your video also gets indexed fast and starts ranking on Google's own search results. It may take time for your videos to get showing up as number 1 or near the top, but you can be certain, no matter where your video ranks, your'e bound to get quite a lot of clicks.
Let's say you get 200 unique visits to your blog as a result of the video clicks or views, (which is fairly realistic – around 10 to 20 views per day could get you this blog visits figure). That could mean if you had 10 or 20 of these type of traffic generating videos that did the same thing.. you could be get close to 800 laser-targeted visitors per month – for free.
So you can start to see the amazing power of Youtube for free traffic right? Now that I've explained to you fundamental of how this works with getting free traffic from YouTube, here are 5 tips that I use all the time for my videos:
1. Focus on going viral
The best way to get your videos go viral is social media sharing. Forums specific to your niche is also great for getting your viewers to your videos. You should also mention it to other sites (where people will see it and be interested in it). This promotes sharing and social engagement, leading to the a viral effect. So the golden rule is the more social signals, the better the number!
2. Keep it professional
In other words, pay attention to making the video picture and sound quality is top notch. This is in turn will go a long way. You'll find quite a lot of free tool and editors out there that can help you – so really make an effort to use them. I've supplied a list at the end of this post to help you in that area.
3. Keep it short and aim to entertain
Most people these days don't have much time nor the attention span to spend watching or reading hours of content. In fact even 10 minutes is too long. Getting distracted online is very easy. So avoid videos that could be boring or is too complicated to understand – it won't matter how greatly informative the content is. No one will watch or be interested in sharing your video with others. So keep it simple, interesting and straight to the point.
4. Make sure your viewers are aware of your brand/logo
This is easily achieved with floating watermarks or inserting frames that has starting or ending titles.  You can also float your logo on the bottom or top left corner of the vide – that usually works well.
5. Promote the option to subscribe to your channel
It's very important you emphasis or make a call to action in the video to subscribe to your channel (either mention it or put in a banner title during the editing of the video). This ensures your videos will appear in the visitors YT home page feed after they subscribe, in other words you'll get returning visitors and loyal following!